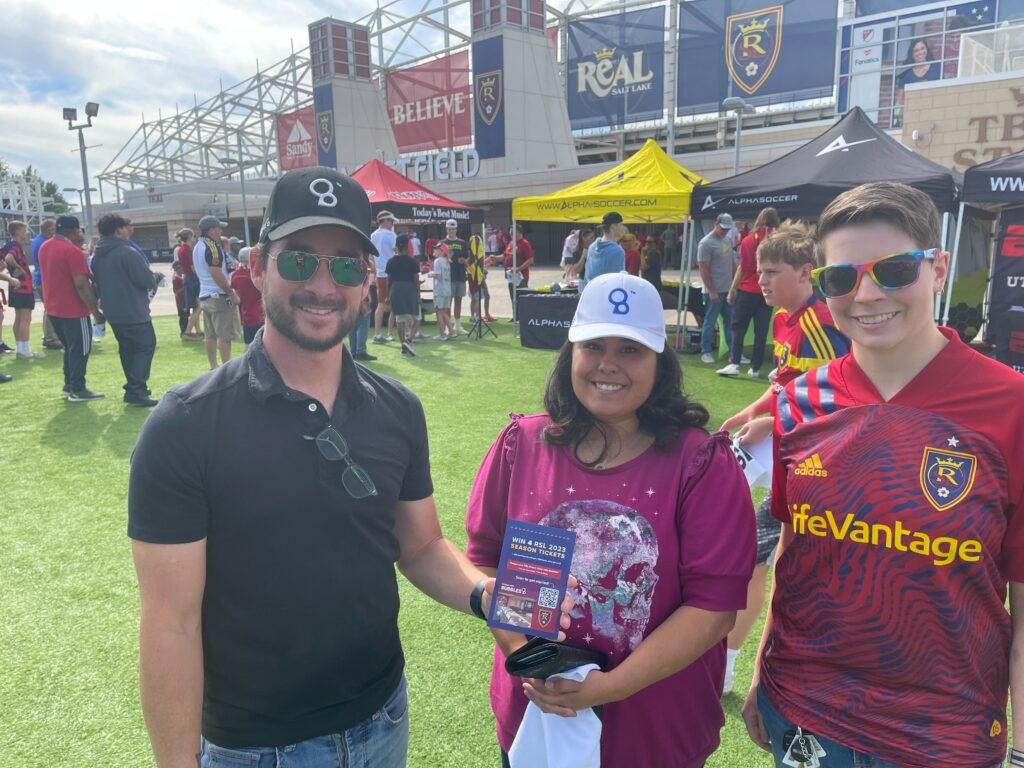 Grand Prize Winners with the Best "Dream Suite" Design Will Win Season Tickets to RSL's 2023 Season & More!
SANDY, Utah (Tuesday, October 11, 2022) – Real Salt Lake of Major League Soccer and local AI software development company, Boom Interactive, Inc announces the launch of a first-ever 3D design contest that encourages RSL fans to design their "dream suite" using Boom's signature 3D design platform, Bubbles. Three grand prize winners will receive four season tickets and one season parking pass to the Real Salt Lake 2023 season, and 150 contest participants will receive gift cards to The Real Salt Lake Team Store.
Contest Details
When:
October 9th at 12pm MT – Contest official kick-off
November 5th at 5pm MT – Contest commences
December 4th – Prize winners will be notified
December 13th – Winners will be officially publicly announced
Judging:
A panel of Real Salt Lake and Boom Interactive judges will judge all eligible entries received. Eligible entries will be judged on the following basis:
25% – Completion of all Design elements in contest
25% – Functional layout of Dream Suite space
25% – Creativity in overall design
25% – Incorporation of Real Salt Lake themes
Prizes:
Grand Prizes:

The top THREE winners of the contest will each receive four season tickets and one season parking pass to the Real Salt Lake 2023 season, which equals approximately $6,000 in value.

Additional Prizes:

In addition to the grand prize winner, 150 contest participants will each receive a $50 gift card to the Real Salt Lake Team Store.
***For more information and to enter the contest, please click here!
Timber Barker, CEO of Boom Interactive: "We are so happy to introduce our new 3D design platform, Bubbles, to the RSL fan base and cannot wait to see what kind of suite designs they come up with. Bubbles has been in the making for nearly three years and to be able to witness local, national and global fans use our platform has been the most fulfilling part of this journey to date. RSL has been an incredible partner and supporter of Bubbles and now we can get fans involved in the experience first-hand."
John Kimball, Real Salt Lake President: "At Real Salt Lake, we are constantly looking for ways to engage with our fans in a fun, interactive and innovative way. With all of the enhanced amenities and activations we've implemented into our new stadium, we also want to be sure we are keeping up with our fans' expectations to create the ultimate experience for them, beyond the stadium and throughout the off-season. The "Dream Suite" contest does just that, bringing the RSL brand into our fans' lives beyond the arena."
The contest is part of a multi-year partnership between RSL and BOOM Interactive will feature interactive activations which allows fans the opportunity to experience the company's flagship proprietary 3D design technology, Bubbles(™), and enter the "metaverse" along with Real Salt Lake, as the Club will utilize the 3D virtual reality technology in future facility renovations at its the official design partner of Real Salt Lake and Real Monarchs.
###
About Boom Interactive, Inc.
Boom Interactive, Inc. is a software company based out of Salt Lake City Utah that specializes in advanced machine learning AI with a specific focus on image recognition for rapid 3D visualizations.
Boom focuses on creating secure multi-platform based communication and collaboration tools, such as real-time networking in 3D environments. They are a metaverse enablement company.
Their flagship product, Bubbles™, leverages their patented technologies that reads, recognizes and learns from complex line drawings, floor plans and sketches. This data is used to generate real time 3D environments which can have multiple applications in various markets.
About Real Salt Lake
During the first week of January, 2022, the RSL compendium of properties was acquired by global sports entrepreneur David Blitzer – who boasts interests in the Philadelphia 76ers (NBA), the New Jersey Devils (NHL), the Cleveland Guardians (baseball) and six European soccer entities, including Crystal Palace (England), FC Augsburg (Germany), Estoril (Portugal), ADO Den Haag (Netherlands), Alcorcón (Spain) and SK Beveren (Belgium). The Blitzer group partners with Utah-based Smith Entertainment Group, led by Ryan Smith, which owns the Utah Jazz (NBA).
Real Salt Lake kicked off its 18th Major League Soccer season this Spring, its first full season under Head Coach Pablo Mastroeni, who led the Utah side for the final 100 days last year, advancing to the 2021 Audi MLS Cup Playoffs for the 11th time in the last 14 years.
The club's MLS Cup 2009 victory marked the state of Utah's only major professional championship in nearly 40 years, the title preceding an historic run to the 2010/11 CONCACAF Champions League Final. Buoyed by a passionate base boasting several thousand season ticket holders, RSL has enjoyed a prominent home-field advantage – posting a dominant 154-46-50 (Win-Loss-Draw) record across all competitions at home (1.96 points per game for a 0.706 win pct.) – since building its permanent home in Sandy 13 years ago.
In 2015, the club expanded its development pyramid with the addition of Real Monarchs SLC, one of several MLS-operated clubs playing in the USL Championship, the United States' Division II setup. The Monarchs boast a pair of titles in its brief history, as the 2017 USL regular-season champions, later winning the USL Final in 2019. For the 2022 season and beyond, Real Monarchs will compete in the newly launched "MLS NEXT Pro" as part of a joint United States and Canada endeavor to complete the professional player pathway by connecting youth academies in MLS NEXT to first teams in Major League Soccer.
The entire RSL development pipeline, which includes the RSL Academy's U-15 and U-17 teams, calls the expansive Zions Bank Training Center in Herriman, Utah their daily training home. With five world-class grass fields, two indoor turf fields, a residential dormitory, the STEM-based RSL Academy High School and the 5,000-seat Zions Bank Stadium located on a 42-acre campus, Utah's sporting future is bright.
The RSL Community Foundation was established in 2016, created with the goals of being active in the community year-round, utilizing the popularity and reach of RSL and the Monarchs in promoting health and wellness in children throughout the region, engaging supporters of soccer to raise funds and volunteer time for various local initiatives.
URL for Contest: https://designwithbubbles.com/competition/rsl-2022
---